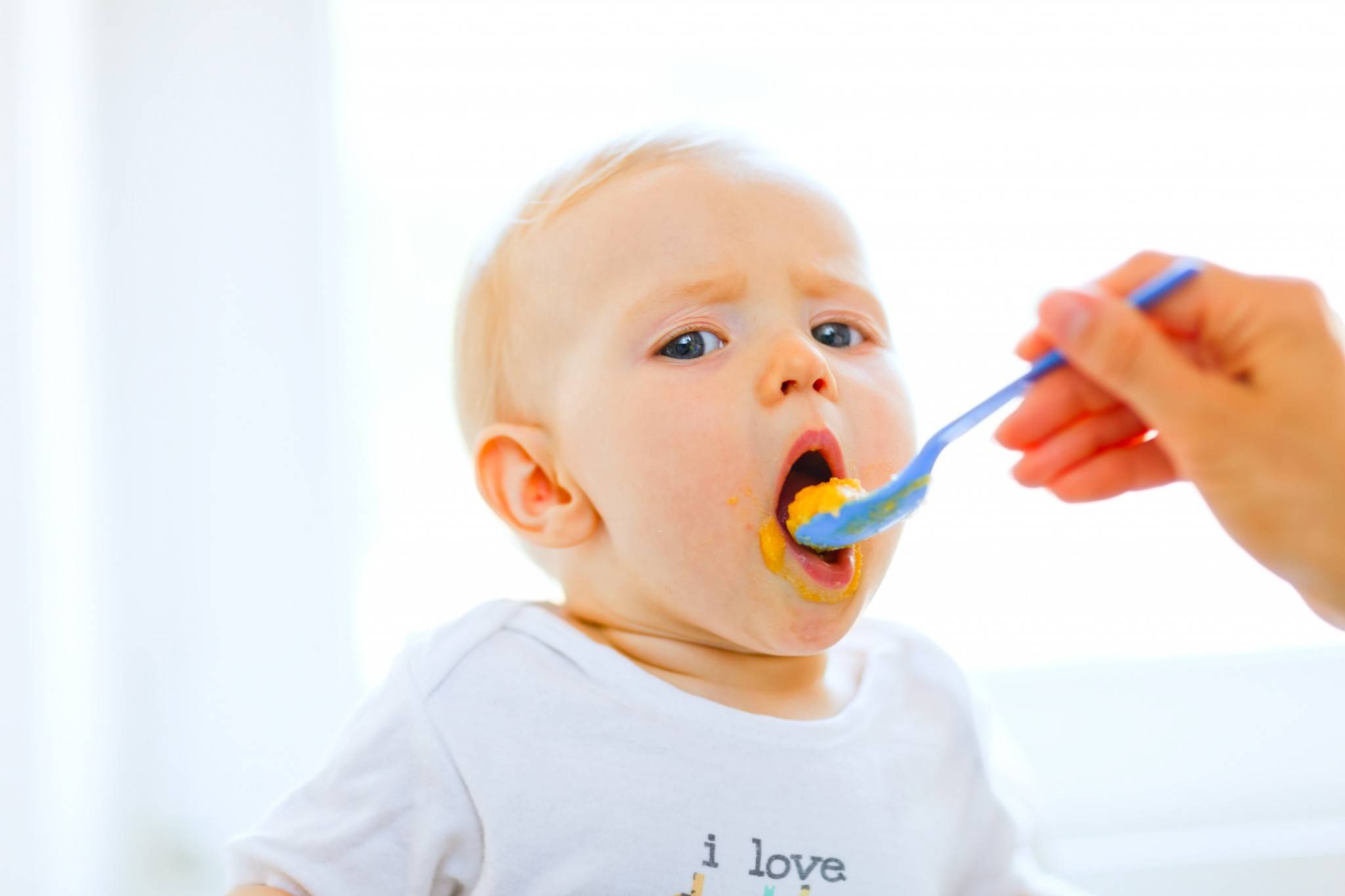 One of the biggest and most enjoyable milestones to share with your baby is when you introduce them to solid food.
At around six months old, they'll be joining you at the table to play a bigger, and possibly messier, part in family mealtimes.
It's a family occasion you'll really enjoy and watching them learn new skills and experience new tastes and textures is so much fun for both you and them.
How to start solids with your baby
Here are our top tips on starting solids:
Get comfortable
When your baby is able to sit upright unassisted and you've chosen a comfortable and supportive highchair, you can begin to offer them solid food at meal-times.
Look for a highchair with a sturdy base that is supportive with straps to keep them safe and happy as they eat.
Manage mess
Mealtimes with a baby who is eating solid food can result in a little more mess than you might be used to.
Stocking up on plenty of bibs is a must to protect your baby's clothing and skin.
Our range of baby bibs has you covered. Well, actually, it has them covered! Choose from a wide selection of beautiful and practical bandana bibs that are stylish and made with high quality cotton backed by a soft, lightweight fleece to ensure super absorbency.
These bibs protect and keep your baby dry from all dribble and mealtime messes, they're durable and designed to be long-lasting to withstand multiple washes and the toughest of stains.
Our bandana bibs are in packs of two or four for added value and they also make lovely gift ideas too.
Save carpets by placing your baby's highchair on a tiled or other easy-to-clean floor if possible. You might also like to look for a highchair that is wipe clean or has a removable tray that's dishwasher safe to make your life even easier.
Mix it up
Whether you're feeding your baby purees or trying out baby led weaning, you might like to try a variety of foods to help your baby get used to many different flavours and textures.
Bear in mind that if they turn their nose up at something one day, to persist with it because it might take them a little while to get used to new tastes. Always ensure you're supervising them at mealtimes.
Choose foods that are nutritious, such as fruits and vegetables that can either be pureed or cut into 'fingers' that your baby can learn to hold and bring up to their mouth. As you go, you can introduce a wide variety of foods that are rich in iron too.
Be consistent with trying out new foods a few times a day until your baby is playing a regular part in all family mealtimes.
Be prepared
To make your life easier, we recommend preparing a batch of food in advance.
This can be as simple as preparing purees to refrigerate or freeze or pre-chopping fruits and vegetables to keep fresh in the fridge until needed.
This also means that when you're on the go, you can grab some snacks and meals to take out with you so that your baby always has something to eat when hungry.
Be patient
If your baby doesn't take to solids immediately, don't feel pressured to rush things or keep up with what other families are doing.
When your baby is ready, they'll let you know and it's important that you and they stay relaxed and not try to rush the process.
Continue to breastfeed or formula feed and regularly try new foods until they get into the swing of things.
We hope our tips on introducing solids helps you to get started!
If you're looking for bottles, utensils and baby storage solutions, you can check out our range of baby feeding essentials here.